You are here

Institutional Research & Reporting
Institutional Research & Reporting
Institutional

Research

Heck Capital provides institutional research and reporting services for:

Corporations | Retirement Plans | Foundations | Endowments | Family Offices | High Net-Worth Individuals | Trusts

Heck Capital's consultants and analysts, along with our Investment Committee, utilize a proprietary methodology to conduct a screening process to help identify mutual funds / managers. The process begins by screening hundreds of thousands of investment options.

Managers Screened
12,800+
Total Funds Screened
210,400+
Here's how we begin our research process:
After filtering out the top mutual funds and exchange traded funds, we perform a thorough analysis of quantitative and qualitative data to select and monitor top ranked managers for consistency, tenure, rankings vs. the index and peer-group, and risk / return comparisons.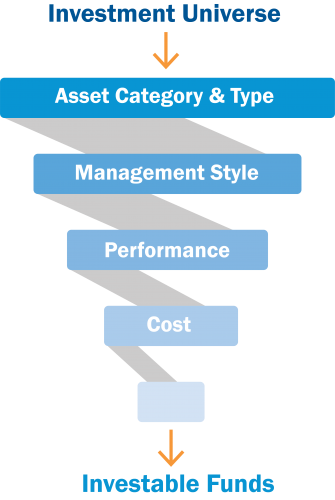 Mutual funds and ETFs are reviewed in traditional and alternative asset classes, while active and passive investment strategies are scrutinized for distinct and competitive advantages. Based on our filtering and scoring criteria, we select appropriate funds in each category.
After identifying the top funds from the investment universe using our proprietary filter and scoring system, we provide our research recommendations to our institutional clients. These recommendations are made with consideration to the Plan's Investment Policy Statement, current and future income needs, Plan structure, and objectives. We believe in our process and we provide our research and reporting services to multiple successful institutions across the country.