You are here

Why Is It Important to Stay Invested?
Why Is It Important to Stay Invested?
Submitted by Heck Capital Advisors on May 28th, 2020
The drastic volatility we saw in March due to uncertainty surrounding the Coronavirus led to an extreme sell-off across all asset classes as many investors fled to cash. Those that weathered the storm and maintained their long-term investment plan were rewarded so far with a considerable rebound from the March 23 low to early May. In fact, the S&P 500 saw its strongest monthly performance in April since January 1987.
Warren Buffet is vocal in his belief that temperament is the most important quality an investor possess. That proves to be easier said than done as emotional investing notoriously causes people to buy at market tops and sell at market bottoms that may have been similar to what we saw leading to the March 23 low. We feel the pain from losses more than the enjoyment from gains, which can cause knee-jerk reactions in weaker markets.
The following chart depicts the importance of staying invested. Six of the best 10 days occurred within two weeks of the 10 worst days during the last decade. Had an investor missed just 20 of the best market days over the twenty year stretch from 2000-2020, their investment return would have been roughly 0% versus an annualized 6.06% return for staying fully invested.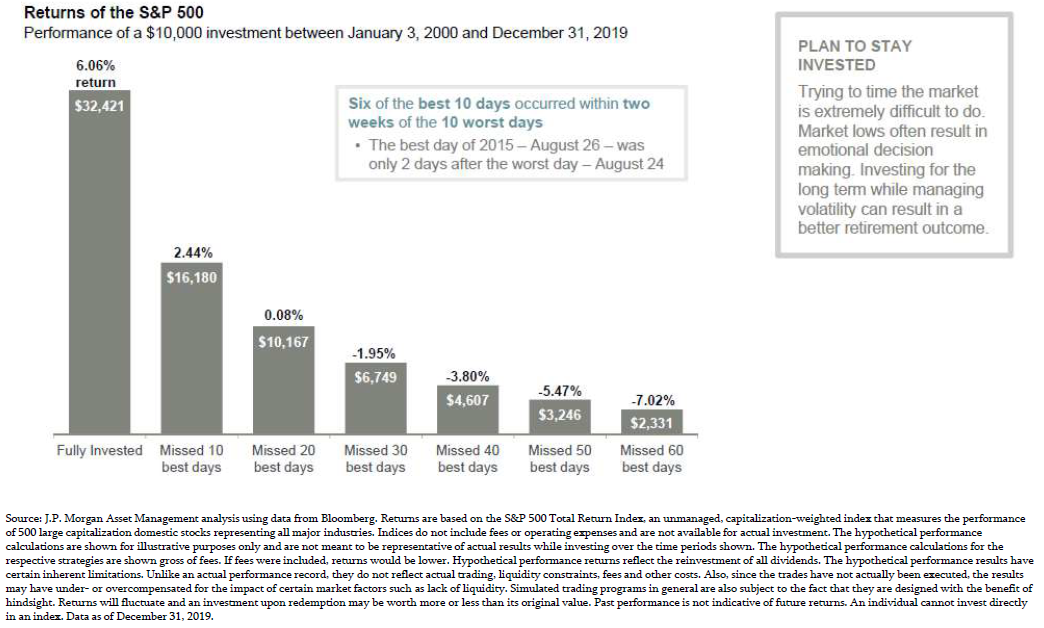 This was also true following the March 23 lows as April ended with the market nearly +30% above those lows. The trillions in stimulus injected into the economy by the Fed and Treasury were aimed at helping individuals and businesses stay afloat through the near-term Coronavirus-induced recession and ultimately a recovery. These measures have played a huge part in the April market rally and investor sentiment following the March lows.
In the month of April, the Dow posted a gain of +11.22%, the S&P 500 was up +12.82%, and the NASDAQ was up +15.49%. Foreign developed markets measured by the MSCI EAFE Index were up +6.46% while emerging markets posted a gain of +9.16%. Bonds recorded a gain with the Bloomberg Barclays U.S. Aggregate Bond Index up +1.78% (Morningstar April 30, 2020). Selling to cash in March would have meant missing these significant gains and further delaying investors' portfolio rebounds. While the COVID-19 induced pullback was fast and significant, investors should be used to seeing volatility with the average intra-year drop in the S&P 500 averaging roughly 14% per year over the last four decades. Despite this, the S&P 500 had a positive return in 30 of those 40 years or an equivalent 75% of the time.
While this recovery will surely look different than past recoveries, we feel that patient investors will get rewarded over time. You should always consult with your advisor at Heck Capital to ensure your asset allocation matches your ability and willingness to take risk; however, we feel that the lessons from the past – staying invested in spite of the volatility if your situation permits – will ultimately yield the best result for the enduring client in the future.
To learn more about market trends and the power of staying invested, please contact your advisor at Heck Capital.
Authored by Michael Bogard, CFA on May 28th, 2020.
About the Author: Michael Bogard, CFA is a Business Development / Client Relationships Senior Associate at Heck Capital Advisors. Michael earned the right to use the Chartered Financial Analyst® (CFA®) designation after completing the program, fulfilling the work experience requirements, and gaining acceptance as a member of the CFA Institute. The Chartered Financial Analyst® (CFA®) charter gives a strong understanding of advanced investment analysis and real-world portfolio management skills. CFA® and Chartered Financial Analyst® are registered trademarks owned by CFA Institute.
Heck Capital is an independent, Registered Investment Advisory Firm providing comprehensive investment management, personalized advice, and strategic financial guidance since the 1950s. We serve goal-driven individuals, families, established institutions, non-profit organizations, and foundations/endowments; striving to help our clients achieve their investment objectives, helping to simplify their financial lives, with the goal to create lasting legacies.